OBD M8
Current version: 1.2.3
Universal car dashboard application.
Works with almost all ELM327 adapters, including Teyes OBD2 adapters v1 and v2
Show current Speed (from GPS, or from OBD), Engine RPM, Engine load, Coolant temperature, Air intake temperature, Throttle position, Car battery voltage, Fuel consumption (instant, or average)
Get information from CAN bus for supported vehicles: Speed, Engine RPM, Coolant temperature, Distance to empty, Tire pressure
Show and clear trouble codes
Full trouble codes database with descriptions
Supports Android Lollipop 5.0+
Download links
Features
Obd Mate is universal car dashboard application with a number of cool features.
Speed
(from GPS or from OBD data)
Engine RPM
Engine load
Coolant temperature
Air intake temperature
Throttle position
Car battery voltage
Fuel consumption
(instant and average)
Show and reset trouble codes
Other features
Important
You need ELM327 Bluetooth, Wi-Fi, or USB adapter to connect to a vehicle.
You should use ELM327 v1.5 adapters, because ELM327 v2.1 adapters often do NOT work correctly.
App supports long T'eyes OBD2 adapters (2nd version)
This application is able to get information from CAN bus without using an OBD-II adapter (in case you have T'eyes head unit with CAN bus box installed).
CAN bus support added for the following vehicles:
Infiniti FX35/FX45 (2003-2008)
If you have installed T'eyes head unit (SPRO, TPRO, CCx) along with T'eyes CAN bus box, contact me, and I'll add your vehicle support to the application.

Quick start guide
Download the app
Plug in ELM327 adapter into 16-pin diagnostic connector of your vehicle
Switch ignition ON (or start the vehicle)
Discover your Bluetooth ELM adapter in your Android device settings, or directly in application settings. Skip this step if you use Wi-Fi or USB adapter
Select ELM327 adapter in the app settings
Connect to the adapter
App should connect automatically, or you can force reconnection by pressing connection button on the right top corner on the main screen.
Diagnostics
Application can be used to read and clear diagnostic trouble codes (DTCs).
You can read and reset trouble codes from OBD-II compliant control units. To read and clear trouble codes from auxiliary control units (like SRS, ABS, etc.) you should use professional scanners.
Application provides full trouble codes descriptions, you can also search for descriptions in Internet just by click on code.
Screenshots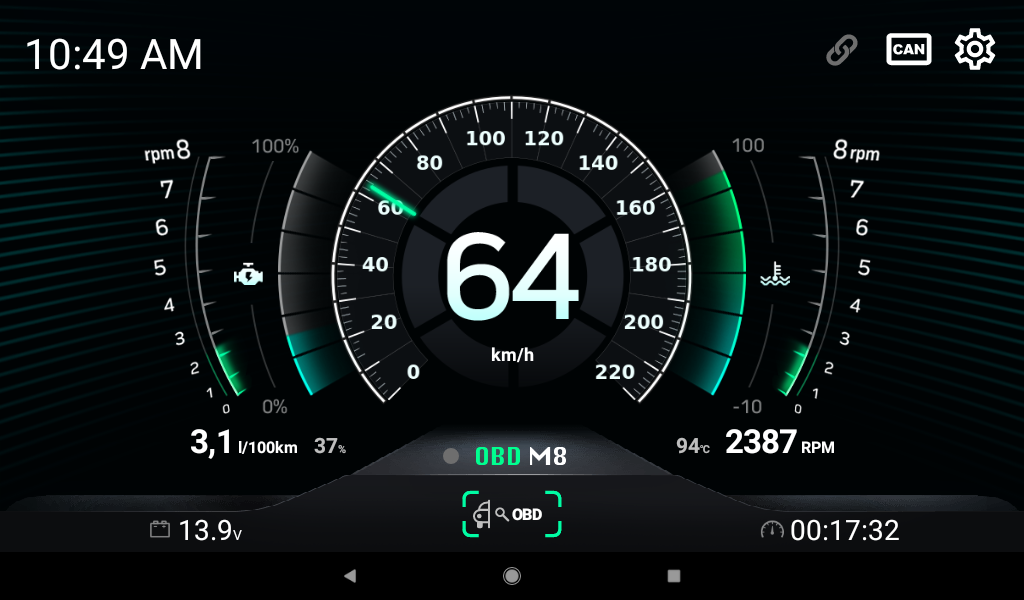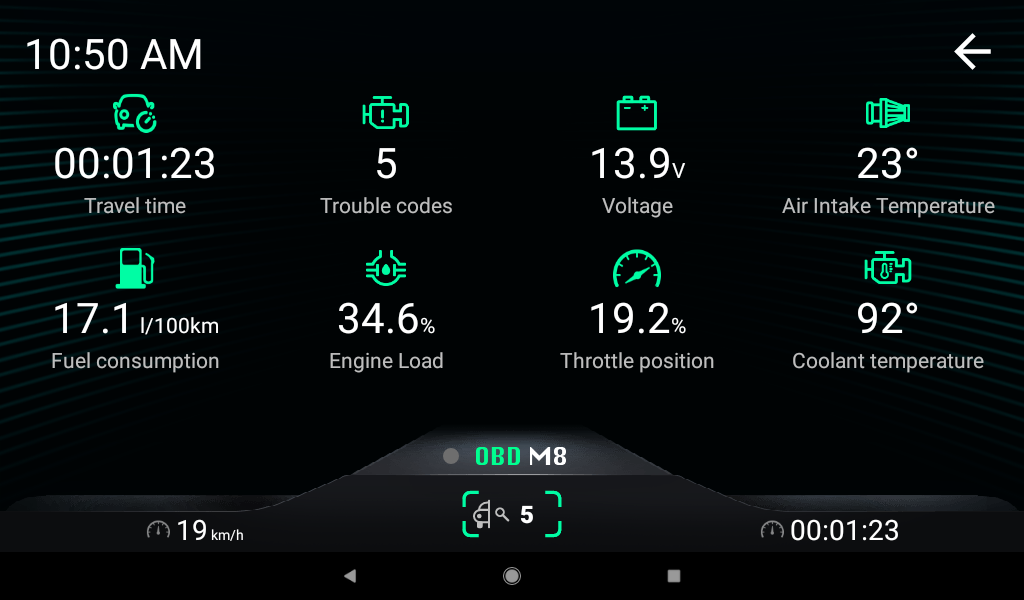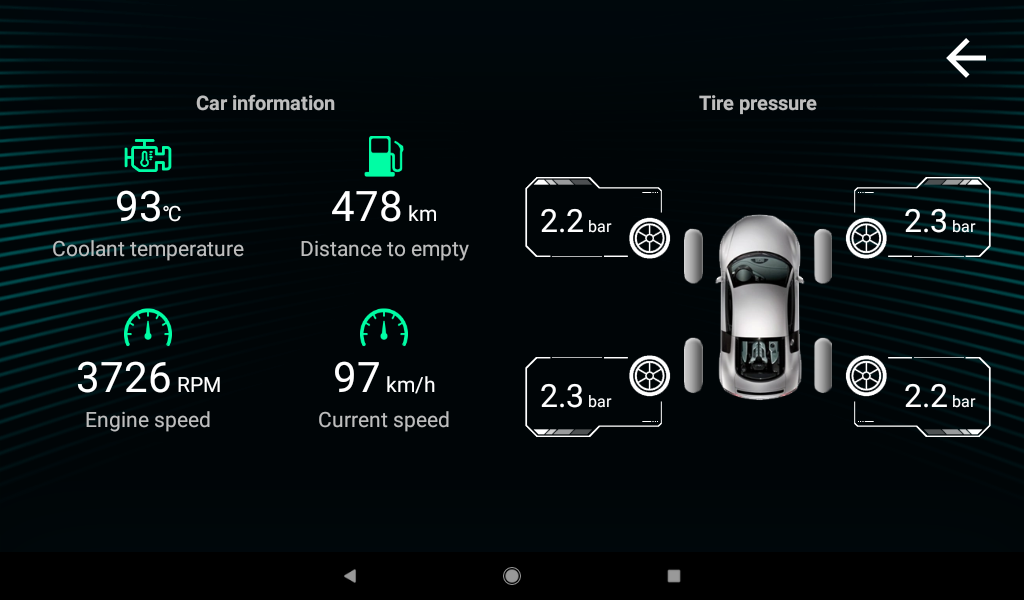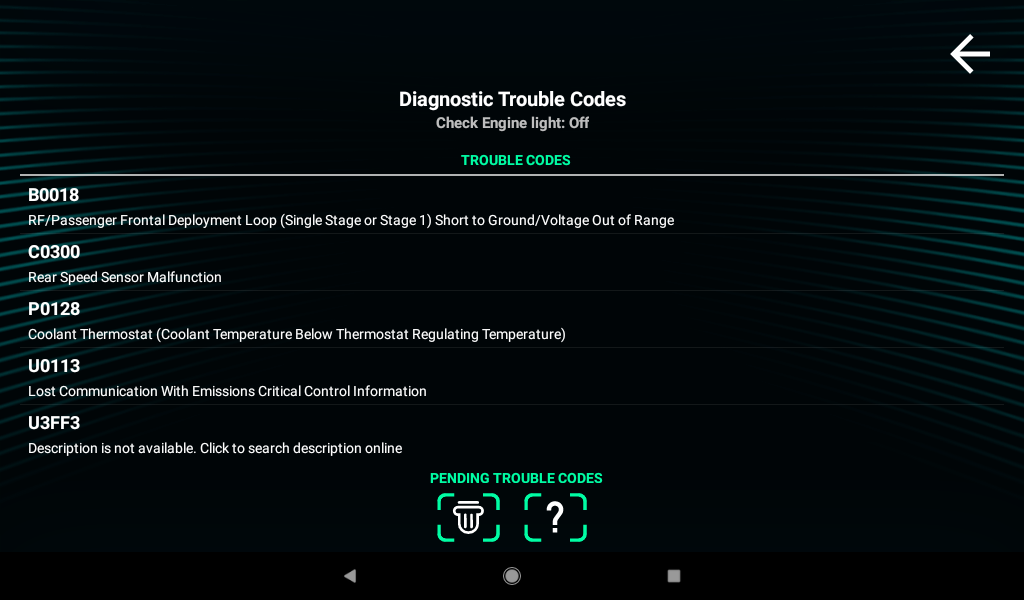 Changelog
Fixed several issues that were causing app crash sometimes
Optimised OBD connection for Nissan/Infiniti 2003-2008 with cheap OBD II adapters
Added OBD terminal to test commands (long click on OBD button on main screen)
Added confirmed trouble codes description to the help dialog on DTC screen
Measure units now can be selected as template instead of changing values one by one (in app preferences)
Added alerts (paint texts in orange color) when speed, tire pressure or coolant temperature values exceed selected thresholds (thresholds could be selected in app preferences)
Fixed fuel consumption conversion
Updated UI images
Added support for Teyes OBD2 adapter in long form factor (updated edition)
Added dialog to select OBD device if multiple OBD devices is bounded, and no devices saved
Updated user interface
Enjoy nice car dashboard application! Just put OBD-II adapter in 16-pin connector in your vehicle, connect to it in device settings, and start using the application.